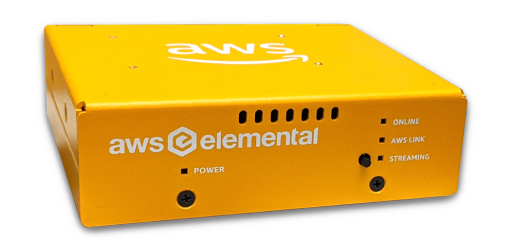 Nomad and AWS Elemental Link provide an easy video broadcasting solution with just a single click. 
Nomad has announced a new "One Click to Broadcast" capability that allows AWS Elemental Link customers to easily broadcast live video directly from their cameras with just a single click.
Users who take videos and want to broadcast them are constantly challenged by the need to do so quickly and easily, without a lot of extra steps or devices required.
AWS Elemental Link is a new device that connects a live video source, like a camera, to the cloud for simplified live content transmission. Developers can take this new video input and use it in conjunction with AWS Elemental MediaLive, AWS Elemental MediaStore and Amazon CloudFront to broadcast live video to the Internet resulting in a best-in-class live video solution.
The new AWS Elemental Link support within the Nomad Platform simplifies the Amazon Web Services (AWS) infrastructure setup and results in an intuitive and easy-to-use interface that allows for live video transmissions within minutes. Simply plug-in the AWS Elemental Link device and it shows up automatically in the Nomad dashboard, ready to broadcast. Additional features like multiple-output profiles and automatic saving of the broadcasts for later viewing or editing are out-of-the box.
Nomad takes this convenience one step further by allowing users to access, manage and share the recorded videos with no extra effort. Users have the ability to utilize the full capabilities of AWS artificial intelligence and machine learning (AI/ML) services to see the powerful value of your content. All of Nomad's trademark features are automatically put to work in the background. You can access a full transcription of the audio and videotext as well as complete translations to the languages of your choice, with more than 40 languages currently available.  Take advantage of the intelligent discovery of your content with Nomad's automatic recognition of people, places and objects, allowing you to organize your content by simple words to bring searching for and filtering topics an easy task. Video excerpts can be clipped and shared while video recordings, along with all the associated content, can then be easily and directly distributed to an organization's website, or any endpoint. Security is at the core as all recordings and associated data are protected and secure via Nomad's advanced security design.
The AWS Elemental Link support enables easy live video broadcasts, but the real power of using the Nomad Platform is that all existing video and image content is also available for broadcast. Any pictures or other saved videos can be transmitted along with the AWS Elemental Link broadcast to create rich live video experiences. Nomad uses Amazon CloudFront and AWS Elemental MediaStore to broadcast the streams using the best-in-class streaming capabilities of AWS so that as the demand for the streams grows, Nomad scales exponentially along with it.
Nomad is a cloud-native content management platform built on AWS that seamlessly merges cloud-based content and asset management with the power of AI/ML into one unified system. Nomad utilizes AWS services such as Amazon Translate, Amazon Transcribe, Amazon Comprehend, Amazon Rekognition, and Amazon Textract to provide powerful AI-driven transcription, translation, deep content discovery, and metadata enrichment. Publishing to any end-user digital experience is seamless with the Nomad Platform. Serverless and scalable, Nomad is deployed within hours and has pre-built integration for a multitude of AWS and 3rd party services and systems. Remote users will also be able to take advantage of features such as interoperability with Adobe Creative Suite and the Zoom connector, remote in-app video previews and video clipping, and user-friendly cloud-based content management.
Contact us today at https://nomad-cms.com to request a live demonstration. We'd be happy to showcase the full capabilities of the Nomad Platform and real-world examples of AI services in action – all in our production-ready live demo environment.